George Washington's legacy is one of strong leadership, integrity, and dedication to community. As our foremost founding father, our namesake started something great back then. Join us in starting something great right now.
History
Bank of George opened on September 24, 2007 as a full service, traditional, community bank focusing on business and professional clients in Southern Nevada. We believed the needs of our clients were better served by a small community bank — and though we have grown and now lend to businesses in more than 30 states, we still maintain two local branches and provide a high level of customized service to all our clients.
We also continue to be committed to providing the tools and technology needed by small business owners to succeed in a dynamic, changing environment.
Recognition
When we started our journey in 2007, we dared to hope for great things — and our vision has become a reality. In 2018, Bank of George was named among the top three in S&P Global Market Intelligence's ranking of the top 100 U.S. community banks under $3 billion in assets.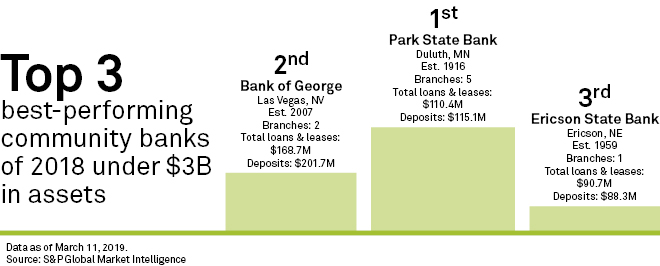 Thank you for making us one of the nation's best banks.
Our Core Values
As we keep an eye to the future, we continue to maintain the timeless ideals and core values that established us as a trusted community partner. We are committed to the full embodiment of the values of our namesake, George Washington, whose legacy is one of strong leadership, integrity, and dedication to community.
Positive Attitude — We seek to say yes. We are open-minded and optimistic. We find solutions. We are warm and friendly.
Integrity — We are honest. We mean what we say. We are consistent and reliable. We keep our promises. We do the right thing.
Empowerment — We strive for common goals. We are loyal and supportive. We care for each other as well as our clients. We make appropriate decisions based upon our commitment to service and communicate these decisions effectively.
Excellence — We strive to achieve a level of quality beyond what is required. We take pride in our work and seek to improve. We are committed to the consistent delivery of stellar services and products.
Respect — We listen. We value the ideas and opinions of others. We encourage diversity. We honor people and relationships.
Accountability — We accept responsibility for common goals. We take actions that create results. We uphold the highest standards of competency and honesty.